Veritas Medical
Medical memberships that played a crucial role in providing healthcare during the Covid-19 pandemic in Lubbock, TX.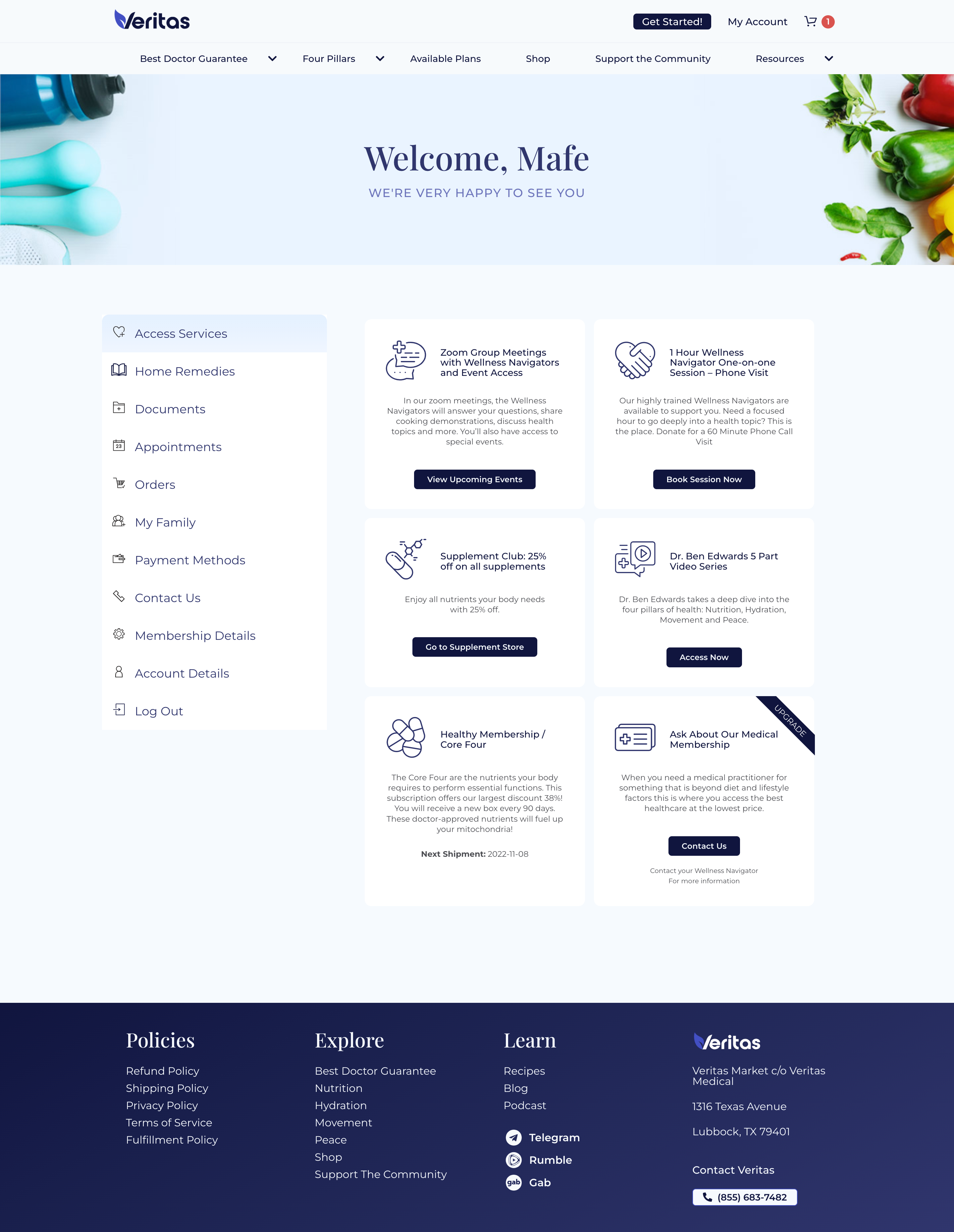 Overview
Veritas Medical is a healthcare provider based in Lubbock, TX, specializing in functional medicine and alternative therapies. Their goal is to provide patients with all the necessary tools to boost their body's capacity to heal and maintain a healthy state, keeping the doctor away for as long as possible. Veritas Medical has shifted its business model only to provide in-person visits to critical patients, while most receive virtual and telephone guidance.
Process
Project Definition

Process Flow Chart

User Personas

User Stories

User Journeys

Style Guide

Hi-Fi Wireframes

User Testing
Role
Senior Product Designer in a team with developers and Project Manager.
Tools
Figma

Miro

Slack

Elementor

WordPress

WordPress Plugins

Woocommerce

Google Drive

Google Search Console

Google Analytics

Jira

Microsoft Clarity

Zoom
Problem
The Covid-19 pandemic brought an unprecedented surge in demand for medical care, making it essential to treat as many people as possible from their homes. To achieve this, the website needed to become an extension of the medical practice, triaging patients and providing them with a wide range of resources to manage their symptoms and regain control over their health.
Solution
After a deeper understanding of the problem, I created and tailored four types of memberships on the website, to triage and meet the unique needs of each user persona. Additionally, I took a further step and led the development team in creating a vitamin supplements shipping automation process to facilitate and simplify their distribution.
To make this all possible, I had to dive deep into the tech side of things. The technology needed a significant restructuring, and it wasn't always easy, but I collaborated with internal stakeholders and worked closely with the development team. Together, we created a seamless online service experience that made accessing these products and services effortless.
Duration
Product Design and Development: 6 months
User testing: 2 months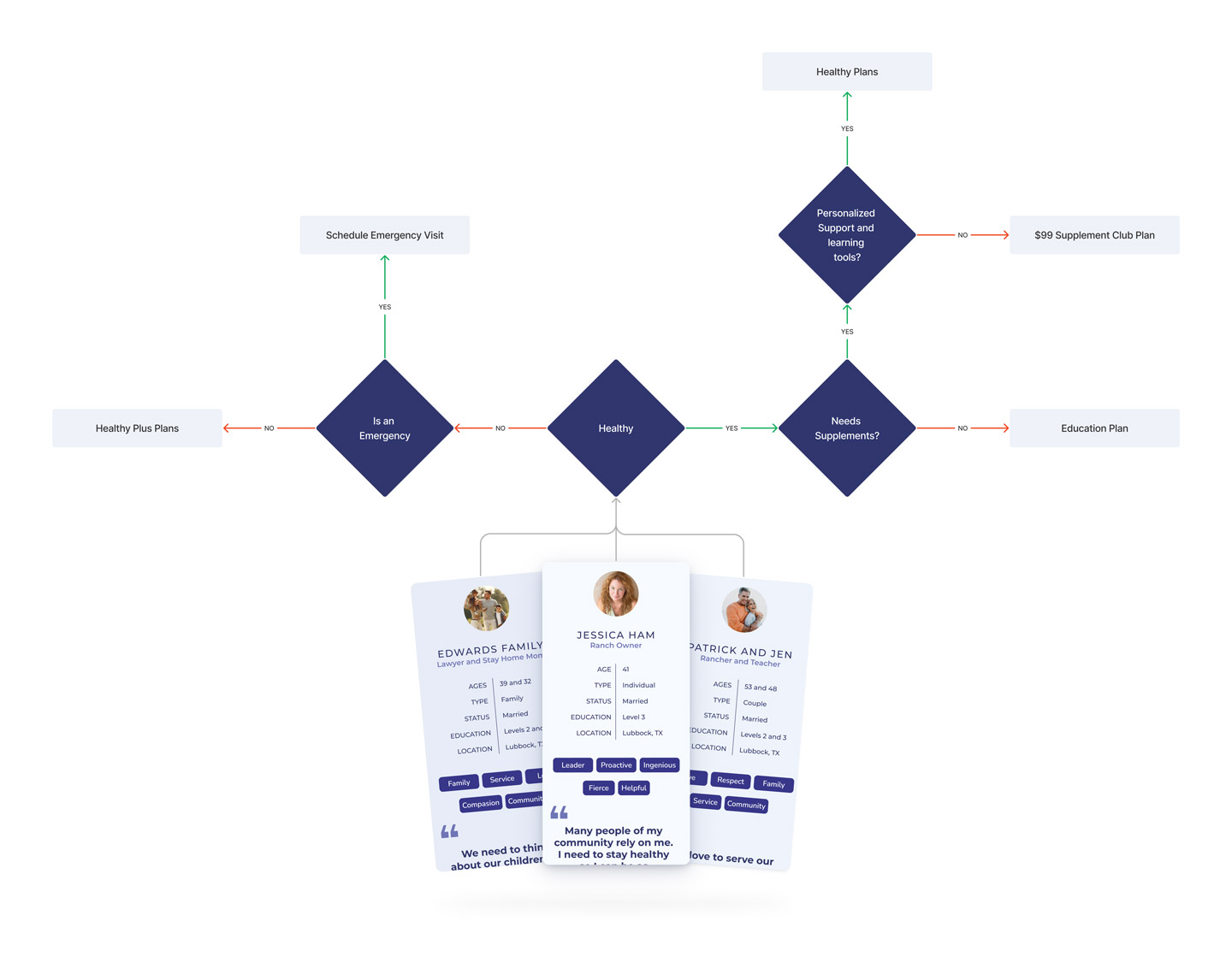 User Personas
As the world was turned upside down by the pandemic, it was clear that Veritas' patients needed personalized care now more than ever. To achieve this, the Veritas stakeholders helped me and the team to delve deep into their needs, fears, and struggles to truly understand what they were going through.
Our mission was clear: provide the best possible care to each and every patient via the website. We divided them into three groups - Individuals, Couples, and Families - and further into two sub-groups each - Healthy and Urgent Care. This ensured that our solution was tailored to each unique situation, making every patient feel valued and cared for.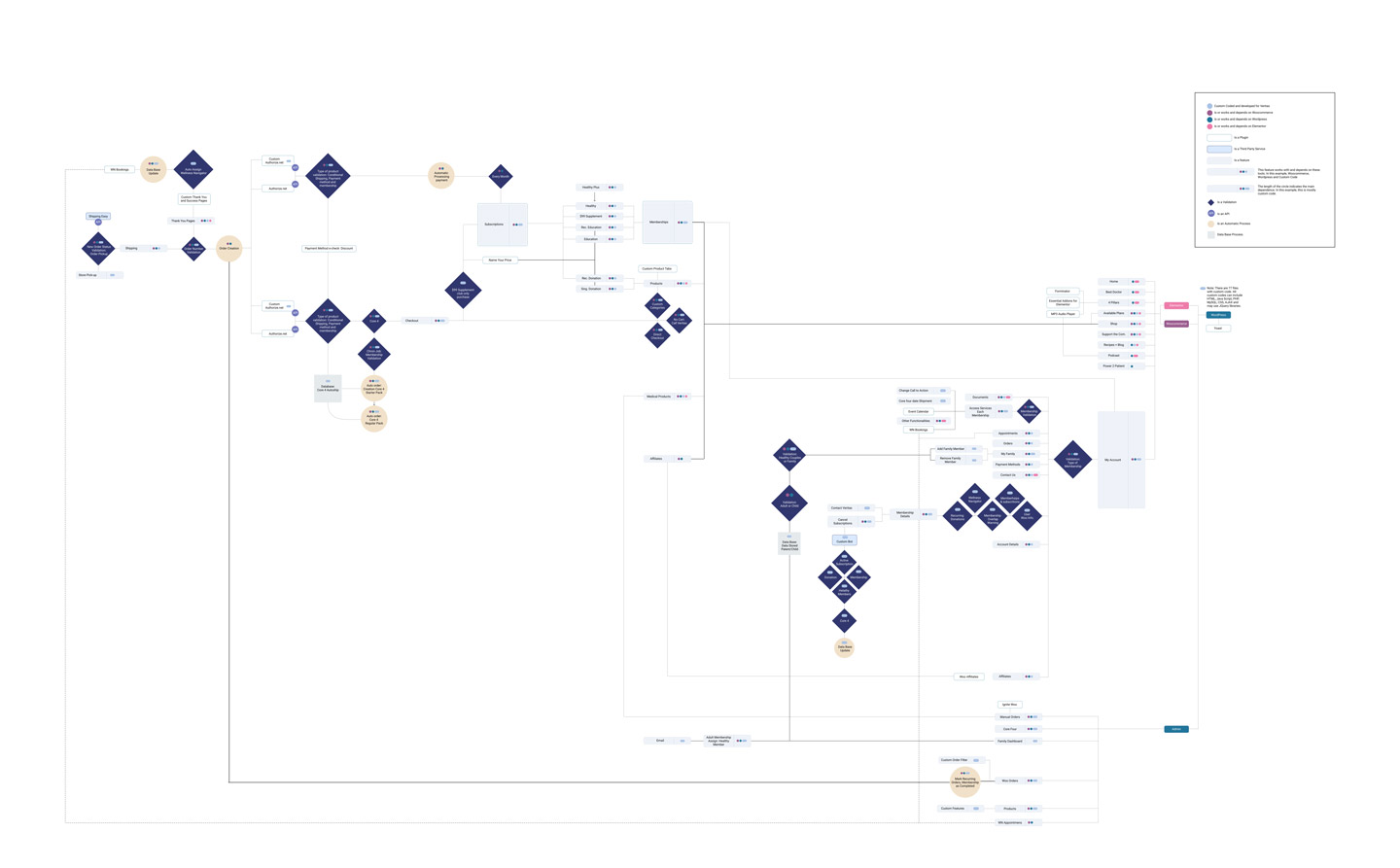 Project Definition
As the Senior UX Designer and Project Manager, I led multiple meetings with the development team and Veritas stakeholders to define the best approach for our project.
With a deep understanding of Veritas' goals and their patient's needs, we had to navigate the constraints of WordPress to create a solution that delivered personalized care to each unique user persona.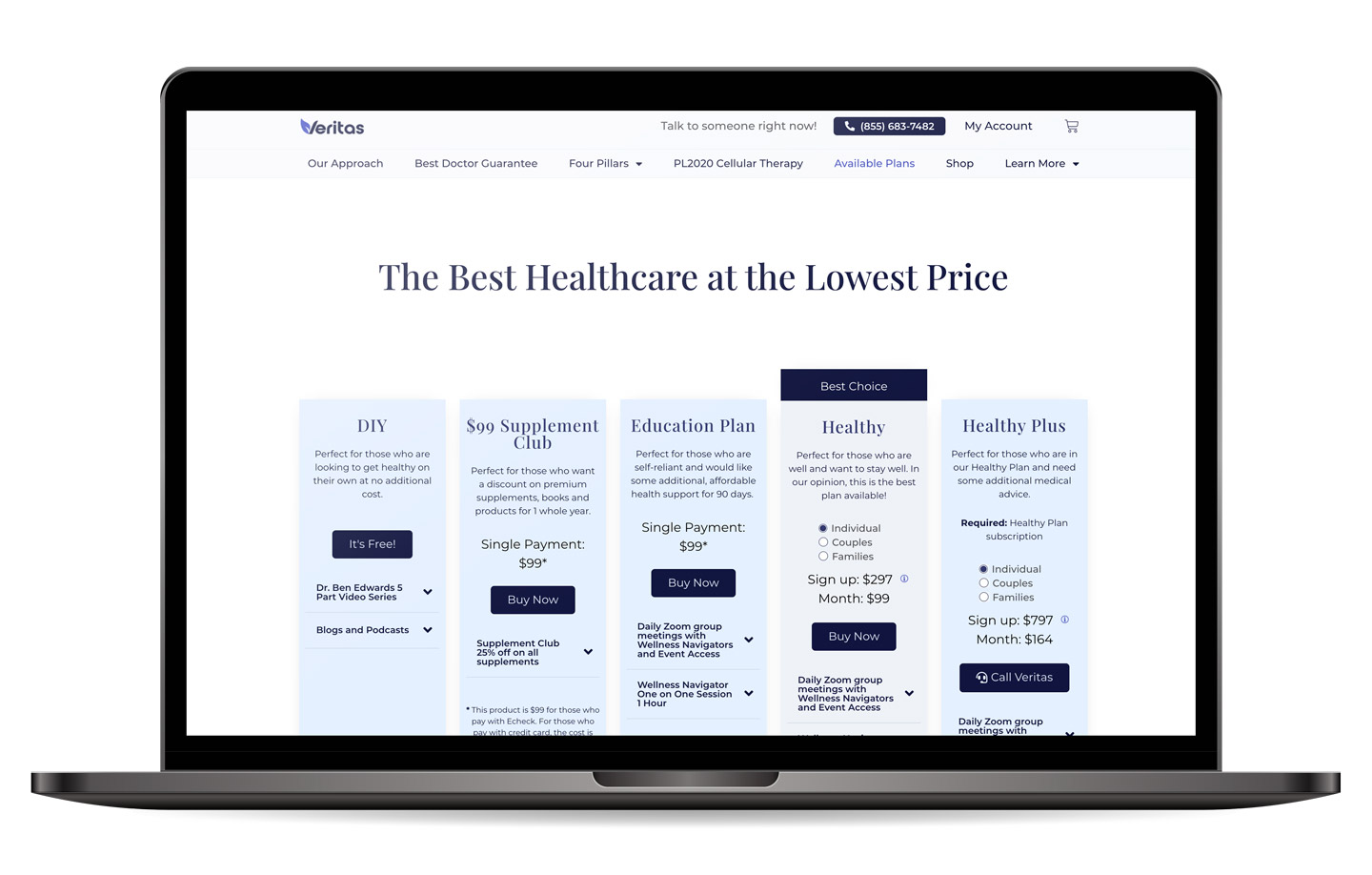 Finally, as a team, we solved this tough equation. The solution we proposed was technically viable and was solving the business and user's problems.
The result facing Veritas and the users was an organized membership list and features. For the developers, there was a detailed process flow chart and a list dividing the functionalities per plugin and custom code.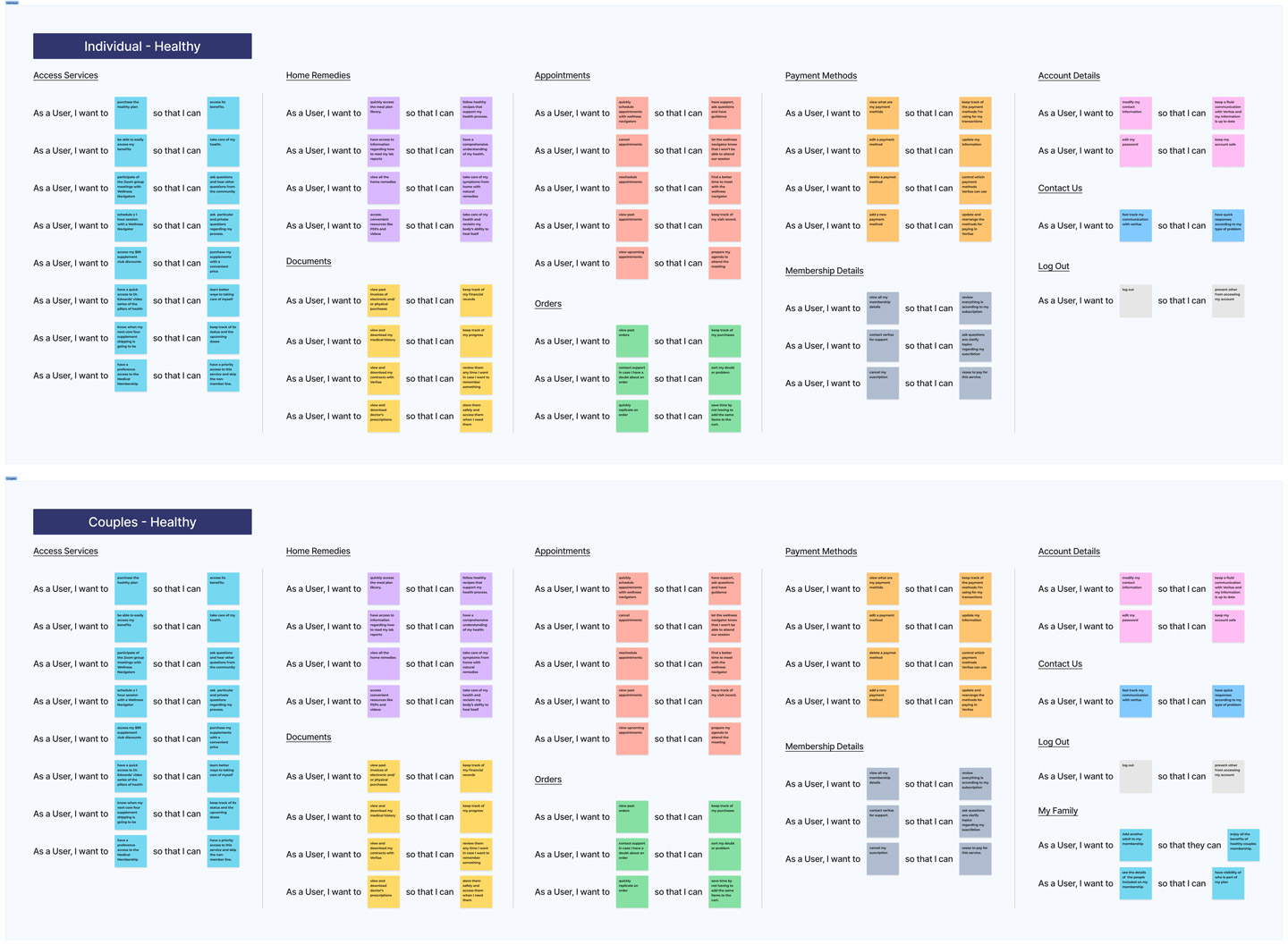 User Stories
Now that I knew who the users were, the project's scope, and its functionalities, I could define the user stories per persona and membership type.
When contrasting them with the development capabilities, we divided them into sprints using the Agile methodology.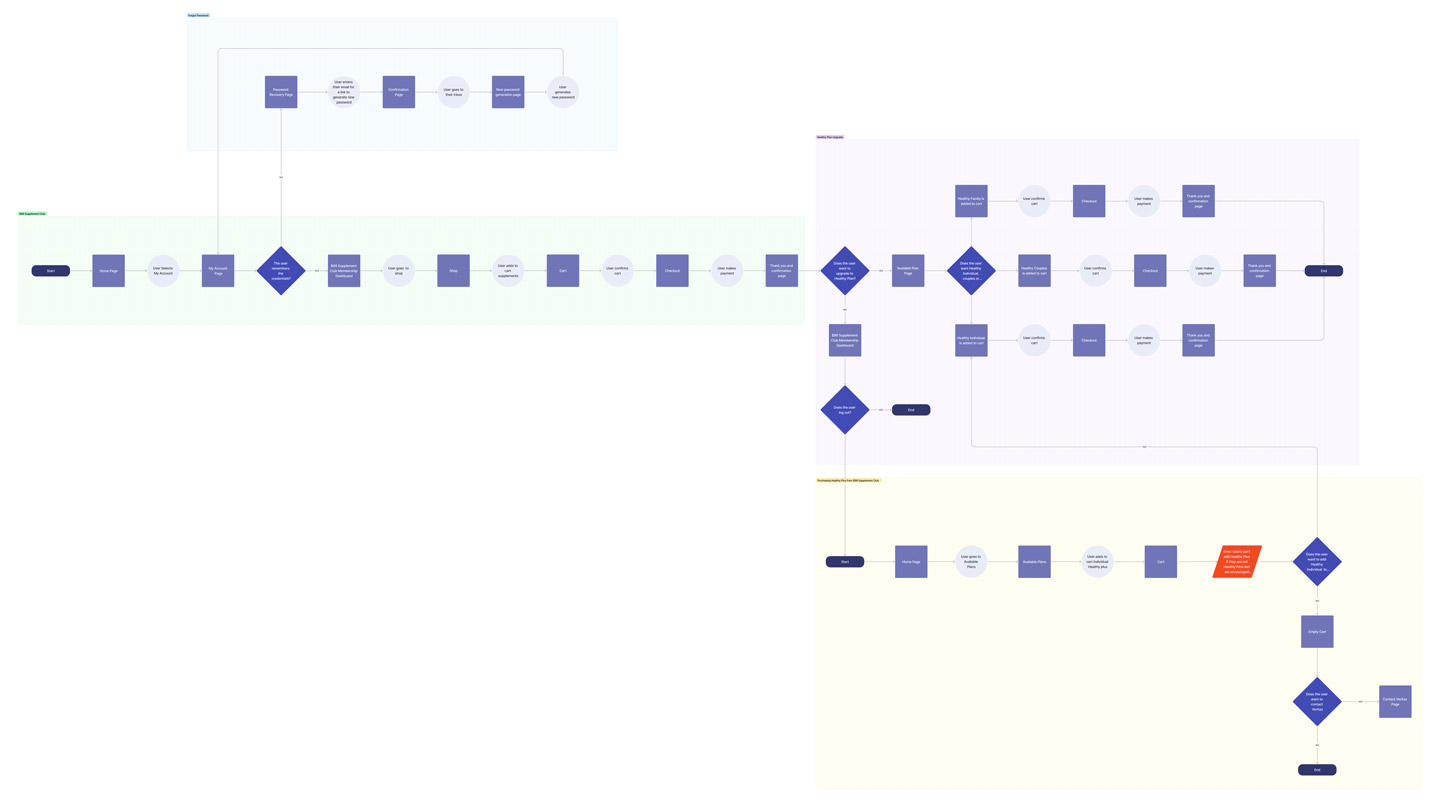 User Flows
At this point, we had 3 user personas and 4 types of memberships that each user could combine. Therefore, things were getting complex, and we had multiple possibilities for user journeys.
I partnered with the development team to map the user flows so we could define each screen, review each possible decision the users could take to create development and content protocols, and define the necessary screens to ensure a smooth user experience.
High Fidelity Screens
Given that we were in a pandemic and the demand for medical services and products was extraordinary, the urgency to launch this membership program was unprecedented.
Therefore, I approached this design with an MVP mentality, using design patterns to speed up the design process. I knew this would not be the final design but more like a placeholder enabling the developers to advance with their tasks. Feeling I had an "incomplete design," I was eager to test it and gather data to make essential improvements.
User Testing
We launched the membership service in sprints. As soon as we published the first service ($99 supplement club), we received patient feedback through customer service, Google Analytics, and screen recordings.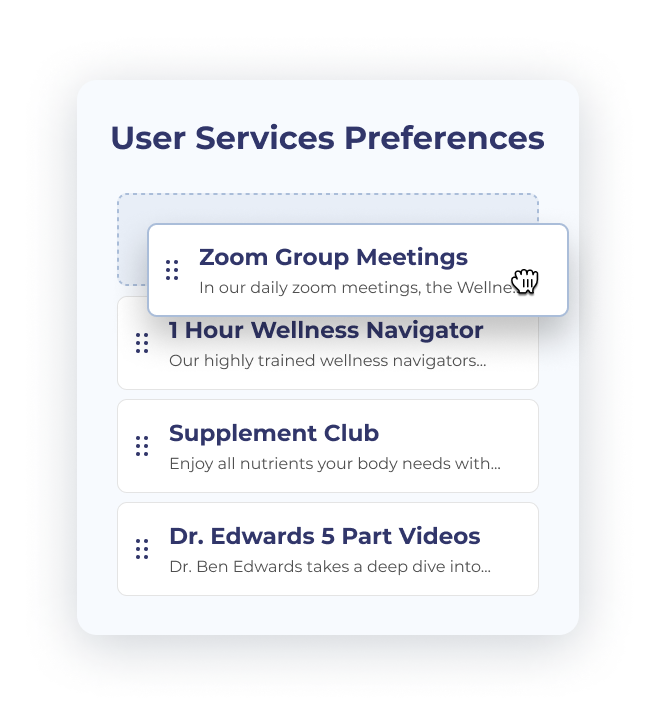 Test Results
After two months of data and user feedback, we gathered important insights that helped us refine functionalities and improve the design. Something I particularly enjoyed was observing the way users were interacting with the dashboard elements, and some of the navigation issues I found were:
The top two services the users wanted to access were the Daily Zoom Meetings and the One-on-One Wellness Navigator sessions. However, they were lower on the list.

Users were more interested in some services rather than others. For example, it became evident that they preferred documents and appointments to membership details.
Redesign
Based on the test findings and inspirations, I completely redesigned the membership Dashboard. Some of the adjustments we made were:
Replaced services as a list for service cards. This reduced scrolling by 30%.

Reordered the services cards so users could have the two most demanded services as the first options.

Adjusted the navigation bar order to place in the first places the most demanded features.

The membership solution was very successful. Initially, the transition was a little hard for the patients who were used to an in-person meeting with their doctor, but once they understood the new dynamic, the results were very positive.

Biggest Challenge
This was a project where I had to interact with and coordinate multiple stakeholders: I was challenged numerous times to advocate for the product's success, sometimes championing the development team or design decisions. Other times it required me to push my teammates to meet deadlines and make intelligent decisions on what to compromise to deliver MVPs. It was almost like a chess match, and I had to play simultaneously with white and black pieces.
Biggest Success
Besides the satisfaction of contributing to business growth and the respective implications (in this case, very dear to my heart because I was so happy to participate in a product that would impact so positively people's lives), I was so grateful for the opportunity of working side by side with a large development team. I deeply enjoy watching a design come to life through the cooperation between designers and developers. With this product, I was able to participate in every step of the process.